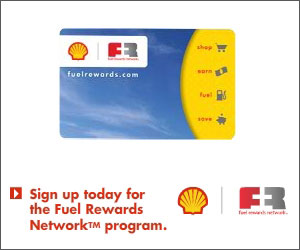 Have you joined the Fuel Rewards Network™ yet? Once you join, you can save money on GAS while shopping and dining, When you earn your rewards, you can redeem them to save on fuel! I have friends who have earned over $100 in FREE gas using their Fuel Rewards card! To join, go HERE and enter your info. A card will be mailed to you within 5-7 business days.
If you shop at Shell, you can earn Fuel Rewards savings when you purchase specially marked convenience store products, car washes and auto services using your FRN Card at participating Shell stations!
Eligible States: ARKANSAS, CALIFORNIA, FLORIDA, GEORGIA, ILLINOIS, INDIANA, IOWA, KANSAS, KENTUCKY, LOUISIANA, MASSACHUSETTS, MICHIGAN, MINNESOTA, MISSOURI, NEBRASKA, NEVADA, NORTH CAROLINA, OHIO, OKLAHOMA, PENNSYLVANIA, SOUTH CAROLINA, TENNESSEE, TEXAS, UTAH, WEST VIRGINIA, WISCONSIN
This post may contain a link to an affiliate. See my disclosure policy for more information.